BOOKS BY LENORA BILLINGS-HARRIS
THE DIVERSITY ADVANTAGE:
A Guide to Making Diversity Work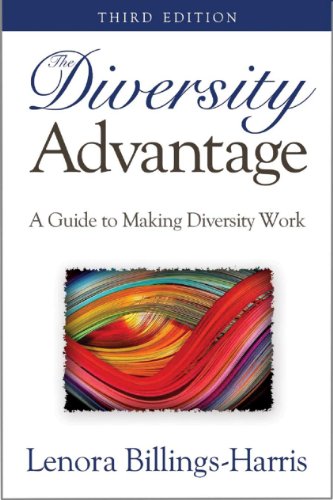 Powerful information you can put to work right away…this practical book is brimming with insights, answers, resources and tactics—to make diversity and inclusion daily practices instead of intangible concepts.
This enhanced and updated edition of The Diversity Advantage: A Guide to Making Diversity Work is a must read for all professionals who want to improve their ability to interact effectively with all types of people regardless of their packaging. In today's global marketplace, having effective diversity and inclusion skills that enhance cultural competence is a must.
This book shows you how to incorporate inclusive practices as you lead, sell, provide service to or educate others. As you read this book, you will discover answers to the questions you always wanted to ask. You will find easy to understand practices that work across race, age, gender, sexual orientation, abilities, beliefs and life experiences and much more.
Lenora Billings-Harris is able to write in a thought provoking yet non-judgmental manner as she shares best practices of individuals and organizations from around the world in an effort to help us all work well and live well in this shrinking global village.
---
"From the perspective of an Australian Muslim I have found Lenora's book to be jam packed with gems that help demystify the notion that diversity is complex. Lenora has managed to unpack the multiples issues surrounding diversity such as stereotyping, disability, behavior, culture, beliefs, values and much more. Lenora has provided simple and real examples to highlight people are different and knowledge, acceptance and change are required to achieve positive results through diversity advantage. The book is short and concise and a must read for any individual wanting to make diversity work."   – NAJLA TURK, AUTHOR, THE ART OF DIVERSITY: GAIN COMPETITIVE ADVANTAGE THROUGH ENGAGEMENT
TRAILBLAZERS –
How Top Business Leaders Are Accelerating Success Through Inclusion and Diversity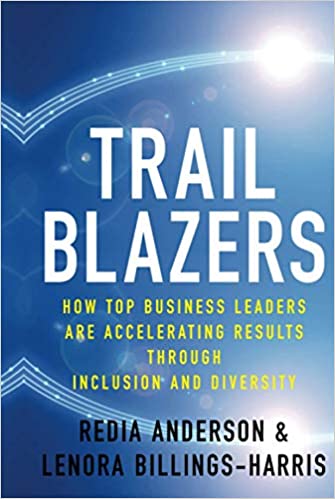 Few books are generating the level of publicity and acclaim as Lenora Billings-Harris' book, Trailblazers: How Top Business Leaders are Accelerating Success through Inclusion and Diversity (John Wiley & Sons). Here's what the experts are saying:
"If someone in leadership does not intellectually understand and fully internalize the business case of a changing workforce, global marketplace and community, they disqualify themselves from leadership. Lenora and Redia go beyond the business case for diversity and inclusion in this book. TRAILBLAZERS provides compelling evidence and best practices that clearly integrate diversity and inclusion into successful leadership and business success."
Frank J. McCloskey, Vice President Diversity, Georgia Power
TRAILBLAZERS provides tested best practices from twelve award-winning companies such as IBM, Merck, American Airlines, the Coca-Cola Company and others, supported by field and academic research. This book separates myth versus facts related to achieving business success in a global marketplace.
"As a former CEO of Southwest Airlines, I think TRAILBLAZERS presents a comprehensive and compelling framework for what it really takes for organizations and leaders to be successful in a multicultural world. TRAILBLAZERS provides an in depth and well-organized look at all the components and requirements of strategic diversity and inclusion, as well as a discerning look at the motivation and leadership skills of twelve highly respected chief diversity officers."  
Howard Putnam, Former CEO, Southwest Airlines, Author of The Winds of Turbulence
"This book is truly a 'keeper' for business leaders who want their organizations to be on the cutting edge of diversity and inclusion strategies—and most importantly, achieve meaningful results. The authors do a great job of providing compelling insights, practical approaches and wisdom as told through the hands-on experiences of diversity gurus."
Claudette J. Whiting, President of CJW Consulting and Former Head of Diversity and Inclusion for Microsoft and The DuPont Company
"TRAILBLAZERS provides an insightful look into the practical strategies implemented by some of the most respected leaders in diversity and inclusion. Their results-producing approaches in top corporations give clear and compelling guidance to all those who are working to leverage diversity's potential and create environments where talent thrives for the good of all."
Anita Rowe, Ph.D., Partner, Gardenswartz & Rowe, Co-author, Managing Diversity: A Complete Desk Reference and Planning Guide, Revised Edition
"This insightful work explores the multicultural dynamic from a meaningful business and social perspective. It guides us all in the right direction for a more productive and meaningful approach to organizational success. As the world becomes a smaller or more tightly knit place, this book highlights how best to use an organization's strongest asset: its people." 
Dr. Nido Qubein President, High Point University; Chairman, Great Harvest Bread Co.
"TRAILBLAZERS is an impressive compilation of diversity and inclusion advice from some of the most admired companies in the world. Using real time business examples, TRAILBLAZERS does an outstanding job of defining diversity and inclusion as a business imperative. Many companies still believe that diversity and inclusion is just a strategy to avoid litigation and protect revenue. For those organizations that are still confused about the business case for leading with a diversity and inclusion mindset, this book sets the record straight and is a book those organization's leaders should read. his book highlights how best to use an organization's strongest asset: its people."
H. Joseph Machicote, VP, Talent Management & HR Services Lance, Inc.
"TRAILBLAZERS is an important contribution to the diversity literature. It focuses more on results than on rhetoric, and takes us past diversity training to effective diversity strategies. So many myths are tackled in this book that it is a must-read for diversity practitioners and those they report to. If just one-tenth of the suggestions in this book were implemented, the workplace would be far more inclusive, and, equally importantly, more productive."
Dr. Julianne Malveaux, President, Bennett College for Women Economist and regular guest columnist for USA Today